Culture & Emotion: Presenting Culture and Emotion to the World

The company name "Cultemo" is a word made by putting together the two words Culture and Emotion.

When the company was founded in 2003 it was named based on our sentiment that "Our job is to make culture.
Then, through our activities, we want to provide emotions that move people's hearts."
Over the past 17 years, as we have developed, the field of translation has become our main business.
However, what has accumulated through past challenges in fields such as "Translation Review", "Quality Consulting", "Support for Self-Publishing", has now become the source of Cultemo's current unique and characteristic know-how and knowledge.

Cultemo's Logo was designed based on two wishes: that Cultemo's way of thinking may spread little by little, and that we can deal flexibly with the varied and differing requests of our customers.
And we feel that the ring of those who approve of Cultemo's way of thinking is widening gradually.

Cultemo has assembled human resources of the highest level, starting from our company employees.
People who have both high levels of skill and human qualities are Cultemo's treasure.
Working together with these talented individuals, Cultemo, will develop each day so that it may be a "Good Company",
a "Strong Company" and an "Interesting Company".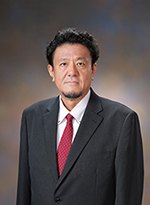 President
Cultemo Corporation